Richie Outfitters LLC
26 Haynes Creek Rd
Salmon Idaho 83467
208-756-3231

Licensed ~ Bonded ~ Insured
Permitted by the Nez Perce and Salmon-Challis National Forest
Richie Outfitters is an Equal Opportunity Provider
Mike & Dawn Richie, Idaho Wilderness Outfitters
Mike and Dawn offer the highest quality hunts for deer, elk, bear, lion and moose in the remote wilderness of Idaho and Montana.
Mike Richie is a second-generation Idaho outfitter who grew up in Unit 17 in the Selway-Bitterroot Wilderness. Mike is one of the only outfitters who has stood by his belief of letting the smaller animals grow so you can have a trophy to take home.  He has run all of his camps by this rule for over 10 years. There are other outfitters trying to do this now, but they have already taken the small bulls, and do not have much left to choose from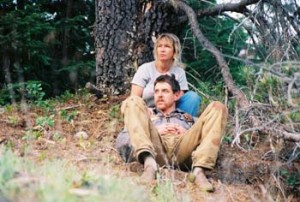 The Selway is famous for turning out genetically superior game, and with the Richie's commitment towards good management, they offer a prime hunting area. The Richie's have a reputation for their good stock and the care they give them, their comfortable camps and the best camp gear, quality hunts, good food, good service and a lot of fun.
---
Richie Outfitters shared Lewiston Tribune's post.

It appears that the news about Ace, Connie's dog , is traveling fast. Ace was at the Moose Crk, airstrip Tuesday morning. The pilot that does all of the flying for Mike and Dawn landed there Tuesday morning as he was taking a search dog and his handler in to resume searching for Connie. Needless to say, we were completely tipped over when we learned that Ace had been found at the airstrip. Ace was flown back to Hamilton, taken to a veterinarian to be check and found to be in good shape, other than being a bit skinny. Ace was flown back in to Moose Crk, to join the handler and his search dog and Mike. They were unable to find anything but the search is continuing. We are hoping and praying that somehow Ace will be able to provide some assistance in the search for Connie. ... See MoreSee Less
BREAKING: Ace, the border collie who belongs to Connie Johnson, was discovered about 15 miles from the hunting camp where Johnson was last seen. goo.gl/6BVbkz
3 months ago
Hoping for an update on Ace....where will he be living, how is he doing? You all have really been through it. Blessings and hopes for peace of mind.
3 months ago

· 1