Deer Hunting
Idaho Deer Hunting, Hunting for deer, elk, bear and lion with Mike Richie. Take a guided deer hunt in the Selway-Bitteroot Wilderness area.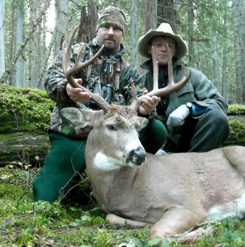 Mule Deer and Whitetail Deer
Because of the remote primitive nature of the Selway Bitterroot wilderness, trophy animals are the rule, rather than the exception. We offer both whitetail and mule deer hunting from mid- September into the rut in November.
EXCLUSIVE DEER HUNT IN THE RUT!
November  14th – 19th
There is nothing like the rut in the Selway. These deer have not seen many (if any) humans, which makes for a ton of fun. The rattle is wild!
We have hunters that have rattled in so many bucks in one day it's crazy! If you can maintain, you can just about pick your Buck!