Fly Fishing
Backcountry Fly Fishing. Guided Idaho Fly Fishing Moose Creek & the Selway River.
Fly Fishing in the Selway-Bitteroot Wildreness of Idaho
Come fly fish the remote backcountry Moose Creek & Selway River that winds its way through the scenic Selway Bitterroot Wilderness in Idaho. Enjoy an Idaho backcountry camp submerged in the peace and quiet of a remote wilderness with only an occasional howl of the Canadian Grey Wolf to break the silence.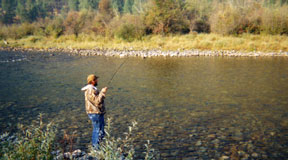 The fully customized guided fly fishing trip in Idaho includeds meals and accommodations. Experience the wilderness as you fly into the Selway Bitterroot backcountry airstrip. The remote fishing rate $150.00 per day, per person group rates are also available. The scenic flight is about 30 minutes from Hamilton. You can easily leave on Friday evening for a fantastic wilderness weekend getaway! Flights and fly fishing gear for 2-3 people run about $320.00 per trip. We will set you up with our backcountry pilots to arrange your flight when you book. Packages do not include the Idaho fishing license and backcountry flight.